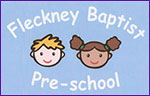 Our Day
Opening hours
Monday to Friday 9am – 3pm
We try to be as flexible as possible in order to ensure that you can have the childcare that you specifically want.  You can therefore register your child for a three hour session which is 9am until 12 noon, a full day session which is 9am until 3pm or an afternoon session which is 1pm until 3pm.
Afternoon starter sessions
The afternoon sessions are where we begin - we take children from the age of two years, these sessions are particularly geared up to this age group.  A variety of activities are on offer which will help your child to develop many skills, but particularly in the early days we are keen to help them develop in their personal, social and emotional skills and in their language skills which are the foundations for their learning. Children will be able to play freely either on their own or in small groups with experienced staff on hand to facilitate their learning.
Morning sessions and full days
These are better for the older children who have had their third birthday and who will be moving on to school at the end of the academic year.  These sessions are more structured and the children are sometimes in small groups where there are specific intentions for their learning.  However we realise that some of you may want your two year old to come for a morning session or for a full day and that of course is your choice.  We do however give priority to the older children for mornings and full days but if spaces are available they are offered to younger children.